Joanne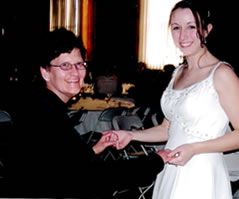 Life changed for Joanne ("Jo") when over twelve years ago she stood alone, without her peers, family or interdisciplinary team, and left her long-term agency for CSI because she wanted more out of life. Joanne has a diagnosis of Prader-Willi Syndrome, and upon meeting CSI staff indicated she wanted as much personal control and freedom as possible while remaining healthy and safe. Over time, Joanne has created a happy and full life with many friends and non-paid personal relationships, in addition to having three very devoted and loyal staff.
Joanne participates bi-weekly in a knitting club at her local church. Club members knit sweaters and hats for homeless children in America and around the world. The lead group member helps Joanne with the finish work and has become a special friend to her.
Key to Joanne's full life is her many community involvements, especially her volunteerism. Over the years she has participated in many walkathons, such as the MS Walk, the Cape Abilities Walk/Run, and most recently in July 2008 the Housing with Love Walk. Jo also continues to volunteer weekly at the Salvation Army and Goodwill Thrift Shops, as well as at the local library, helping to re-shelve returned books. She swims in the Special Olympics and continues her eight year relationship with Barbara in her weekly TOPS group. Importantly, Joanne has been able to maintain her goal weight.
Joanne sees Bob, her tutor, weekly as she continues to pursue her GED. Jo has been so successful in meeting counseling goals, that recently she self-initiated a reduction in the number of sessions monthly.
Over the years, Jo has traveled from Nova Scotia to North Carolina, and many places in between with Gail. While in New York City earlier, Jo was on "Who Wants to be a Millionaire". Presently, Jo is planning a cruise to Bermuda or the Bahamas in Fall, 2008 and awaits the receipt of her passport.
Gail has also helped Joanne to find her family. Over the course of a year, they found two brothers and an aunt. Now, Jo maintains a close relationship with her brother,Walter. Jo has also found a new male companion in the past year, whom she sees weekly. Jo's very special accomplishment, given her PWS, is her ability to live safely alone in her own home. Her staff supporters give her the opportunity to remain alone in her home for up to two hours (one of her favorite solitary activities is to knit while watching All My Children). Access to food is limited except in the presence of her staff supports, and environmental safety is also assured by an alarm system which advises staff if Jo makes an unplanned exit from her home. Together, these measures have given Jo the personal security and self-control she seeks.